Following An Employee Walkout, Google Changes Some Sexual Misconduct Policies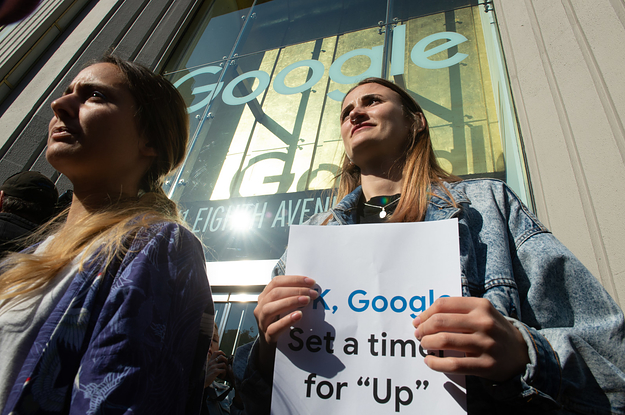 Google announced several changes to internal policies on employee sexual misconduct on Thursday in an attempt to improve company culture and develop what its leaders believe will be a more "representative, equitable, and respectful workplace." The move follows a company-wide protest about its handling of sexual misconduct issues last week.
On Thursday, Google CEO Sundar Pichai sent a note to employees detailing those changes, some of which had been demanded by the protest's organizers including an end to mandatory arbitration in cases of sexual misconduct and transparency reports detailing investigations and disciplinary action taken in cases of sexual harassment. Google's policy changes on Thursday did not address all of the organizers' demands, namely promoting the company's Chief Development Officer to report to the CEO and appointing an employee representative to the the board of directors.
Google is set to hold an all-staff meeting on Thursday morning to discuss the changes. "We recognize that we have not always gotten everything right in the past and we are sincerely sorry for that," Pichai wrote in a note to employees ahead of the meeting. "It's clear we need to make some changes."
Twenty minutes before the meeting was set to start, a Google employee, who asked to remain anonymous because of their employment status, told BuzzFeed News the line to get into the room where it would be held at the company's Mountain View, California headquarters stretched "across the whole building and outside."
Last week, 17,000 employees and contractors walked out during the work day to protest a company that had protected and paid senior executives who had been accused of sexual harassment and misconduct. The walkout, which took place in company offices from Tokyo to San Francisco, followed a New York Times story that detailed several instances of inappropriate conduct and behavior from former and current Google leaders including Android creator Andy Rubin, who was given a $90 million exit package upon his 2014 departure from the company despite an existing sexual misconduct investigation.
"I think the plan is great progress," the anonymous Google worker said. "It shows how much pressure we're putting on. There's very clear progress on three of the demands and I think that's a big win. But I also think none of the demands is 100% met by this plan, and some aren't addressed at all. So I think pressure's going to continue."
One concession Google is making is a partial end to mandatory arbitration, a rule typical of many employment contracts which prevents employees from suing their employer in open court. Google employees asked for "an end to Forced Arbitration in cases of harassment and discrimination for all current and future employee."
In his email, Pichai said Google would "make arbitration optional for individual sexual harassment and sexual assault claims", though that route will still be available to employees. One current Google employee who participated in the walkout said the change seemed like a considerable concession, though the question of who determines which claims qualify remains a concern.
Walkout organizers also demanded that that Google acknowledge "a right for every Google worker to bring a co-worker, representative, or supporter of their choosing when meeting with HR, especially when filing a harassment claim."
PIchai in his email said one of the changes Google plans to make to its system for reporting such claims is "the ability for Googlers to be accompanied by a support person."
Google employees also demanded that the revamped system for reporting harassment "be accessible to all: full-time employees, temporary employees, vendors, and contractors alike." "Accountability, safety and an ability to report unsafe working conditions," the demand list read, "should not be dictated by employment status."
Google's action plan says it will continue to investigate "all matters in which a complaint is made against an employee, and require that suppliers do the same for our TVCs [temps, vendors, and contractors], and report back to us on any complaints." It also says third-party contractors are expected to meet Google's existing Supplier Code of Conduct, and that failure to do so could lead Google to terminate the contract.
However, while walkout organizers demanded for complaints by employees and contractors to be handled in the same system, the action plan says suppliers, not Google, will be responsible for providing "a program that provides workers with a means to report grievances."
Earlier this year, Google responded to employee concerns regarding the ethics of working with the Pentagon to build AI-enabled drone warfare technology. When a dozen employees quit over the contract, called Project Maven, Google promised not to renew its agreement. Channels for employee organization within Google have been coalescing since then; the employee walkout, and Google's concessions, are the latest sign that both sides are aware of the unique leverage highly in-demand tech talent holds in Silicon Valley.