Google's Board Is Being Sued For Allegedly Silencing Misconduct Claims Against Former Executives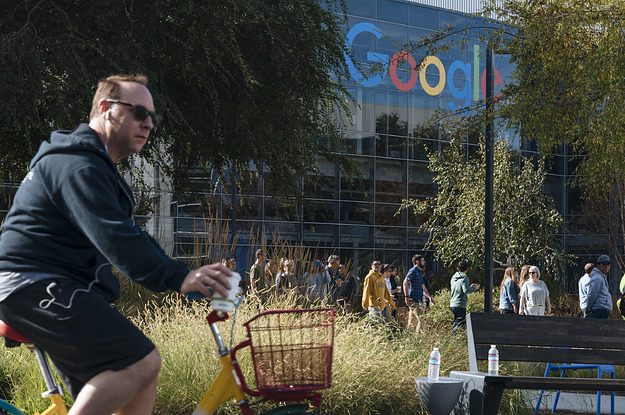 Attorneys representing a Google shareholder revealed details of a new lawsuit that claims the company's board of directors covered up sexual misconduct by former Google senior executives, including "Father of Android" Andy Rubin and ex-head of search Amit Singhal. Even after Google investigated and found that the allegations of Rubin's sexual misconduct were credible, the suit says, it allowed him to resign and approved a $90 million severance for him.
The suit, which was filed in San Mateo Superior Court in California Thursday morning, contains minutes from Board of Directors meetings that detail how the tech giant dealt with employee complaints made against Rubin in 2014, and against Singhal in 2016, and how it compensated these executives when they left the company.
"The perpetrators of sexual harassment have been rewarded handsomely," one lawyer for the Google shareholders said during a press conference in San Francisco. "Time's Up."
A spokesperson for Google told BuzzFeed News the company had "nothing to share" on the lawsuit.
According to the lawyers, the suit would seek legal relief for Google's alleged breach of fiduciary duty, abuse of control, unjust enrichment, and waste of corporate assets. It would also demand ending the practice of nondisclosure agreements and arbitration agreements at the company.
Lawyers for Google shareholders also revealed that the company's investigation allegedly discovered bondage videos on Rubin's computer, and that the company board knew. "You won't believe what's in these minutes," one lawyer said during the press event, referring the company's board meeting notes.
Google has been under close scrutiny for its handling of sexual harassment cases since last year, when a report from the New York Times revealed the company paid and shielded Andy Rubin when he voluntarily departed in October 2014. In November, Google employees from around the world walked out to protest the company's actions. Shortly thereafter, Google announced that it would end forced arbitration — a policy that shielded the company from workers airing their grievances in open court — but it said nothing about discrimination, wage and hour disputes, or other types of employee claims.
This is a developing story. Check back for updates and follow BuzzFeed News on Twitter.‏