Rishi Sunak unveils emergency jobs scheme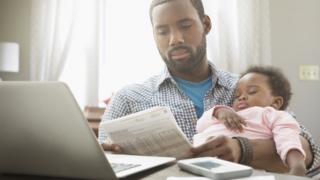 The government and firms will continue to top up the wages of workers who have not been able to return to the workplace full time due to the virus
The Jobs Support Scheme, which will replace the furlough scheme when it ends, will see workers get up to 77% of their normal salaries for six months.
It aims to stop mass job cuts after the government introduced new measures to stop tackle coronavirus.
Chancellor Rishi Sunak said it was part of a wider "winter economy plan".
Nearly three million workers – or 12% of the UK's workforce – are currently on partial or full furlough leave, according to official figures.
The chancellor said that employees will have to work for at least a third of their normal hours to quality for the new scheme, which begins on 1 November.
Businesses that have borrowed money through the government's loan scheme will also be given more time to repay the money.
And a VAT cut for hospitality and tourism companies will also be extended until March. The cut from 20% to 5% VAT – which came into force on 15 July – had been due to expire on 12 January next year.